About Us
The Port of Coupeville was established in 1966, located on Whidbey Island in the Puget Sound. It includes an area from North of the town of Coupeville to North of Freeland, as highlighted on the adjoining map.  For more information on the history of the Port of Coupeville please click here.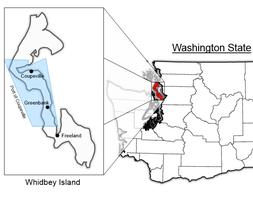 Washington Public Port Districts
The state Legislature of Washington passed the Port District Act in 1911, creating public port districts in Washington. In September 1911, the Port of Seattle became the first autonomous municipal corporation in the nation to engage in port terminal operation and commerce development. The formation of the Port of Grays Harbor soon followed. Since 1911, more than 80 public port districts of all sizes and in every corner of the state have been created by voters throughout the state. For more information on Washington's Public Port Districts, click here.
Port History
People have always lived near water for domestic purposes and to use it as a transportation system for people and goods. The first ports were established along the streams, rivers and harbors where peopled settled.
​In 1787, our nation's founders acknowledged the importance of waterways and their value to the growth, economy, and welfare of the new nation when they passed "The Northwest Ordinance." This stated that the nation's inland navigable waters were "common highways" and were "free forever." These references to coastal harbors and entrance channels were included in the U.S. Constitution when it was adopted in 1789.
Ports in Washington State evolved in much the same way as in other parts of the nation. Wherever people settled near the water, boats, ships, rafts and barges were needed to move people and goods. Docks, floats, piers, gangways and other conveniences were built to accommodate watercraft traffic. Most of Washington's early port facilities were privately owned. Those who owned the waterfront amenities controlled movements and the associated costs. In many regions private monopolies existed and prices were established accordingly.
Waterfront monopolies in Washington were dismantled in 1889 when the new state constitution declared that beds of navigable waters belonged to the people and the Legislature could designate which of those areas would be harbors. It also provided a system for leasing waterfront tidelands and uplands in those areas. In 1911, the Legislature enacted laws that allowed the people to establish port districts and elect commissioners to administer the districts and oversee their development and operation. The Port District Act of 1911 was the climax of a long struggle to achieve public control over areas that were essentially public in their impacts, such as commerce.
Currently, there are 75 public port districts of all sizes and in every corner of the state. While many port laws have changed since 1911, the most important provisions still remain.