Rent Space in the Pea Patch
Pea Patch Garden Plot Map. We have 2 open spaces for 2023.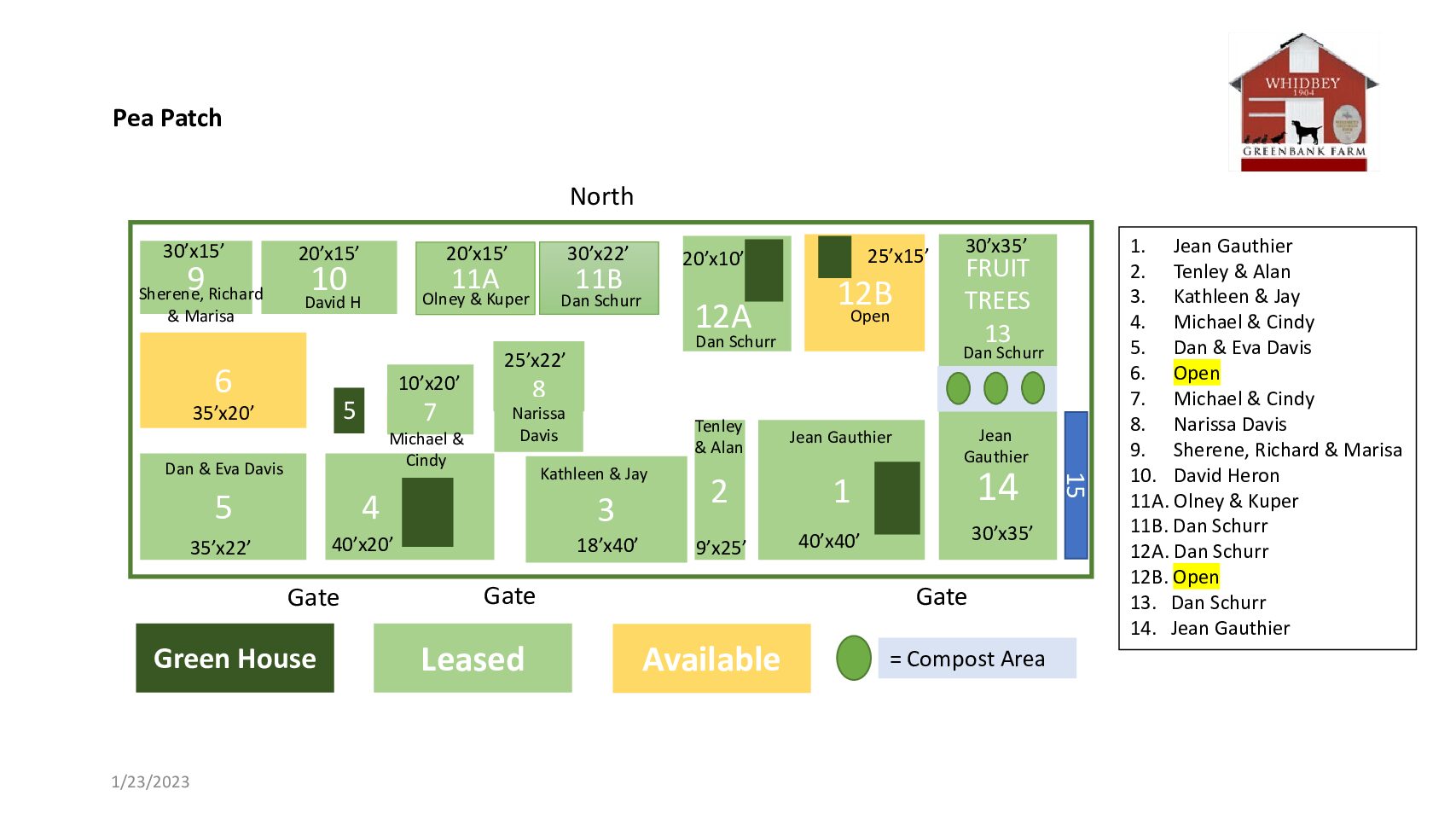 Welcome to the Greenbank Farm Community Garden Program! Gardeners agree to and/or are responsible for:
Using food grown for private consumption rather than for commercial purposes.
Providing their own tools, soil amendments and gardening supplies. Those using farm wheelbarrows, hoes, shovels or any other farm equipment are responsible for returning them to their source in good working order.
Planting and maintaining plots. Composting is encouraged. Care of the composting area for those using it is required.
Organic gardening with respect to avoidance of chemicals, sprays, soils, or any other amendments that are not considered to be organic for produce growth or weed control. Organic seeds or starts are not required.
Maintaining gardens in a clean and tidy condition; disposal of trash. Recycling is encouraged.
Water is provided by the Port; use good water conservation practices.
Maintaining control of pets and cleaning up of pet waste.
Contribute to mowing of common areas and maintaining common areas close to individual plots.
Assistance with keeping the mower and weed eater in operational condition.
Storage of tools in a covered shed, protected from rain.
Contributing to filling the gas can.
Securing of locks and gates to maintain the garden as an area available to gardeners and guests.
Avoidance of the use of alcohol, illegal drugs and smoking. If a social event is planned and wine or beer is desired this must be approved in advance by the Port of Coupeville.
Respect and considerate treatment and thoughtful resolution of conflicts that may arise. Issues not resolved to a gardener's satisfaction may be brought to the attention of the Executive Director of the Port of Coupeville.
Removal of all rubbish; hoses, fences, netting, plastic containers, lumber, broken tools, or any other such debris from the garden when vacated. An invoice will be sent to those responsible for not removing these items.